ERIE COUNTY, N.Y. – Seeking to end New York's Scaffold Law and replace it with a comparative negligence liability standard, Rep. Chris Jacobs (R-N.Y.) introduced the Infrastructure Expansion Act (H.R. 8222) at a press conference earlier this week in Hamburg, N.Y. The press conference was attended by representatives from construction, business, and insurance organizations. Congressman Tom Reed (NY-23) joined the legislation as a co-sponsor.
"The Scaffold Law is an outdated 19th century law that burdens our taxpayers and hurts our ability to provide critical infrastructure for New Yorkers across the state," Jacobs said. "Today I am proud to announce that I have taken action to combat one of the most burdensome regulations in New York State by introducing legislation that will drive federally funded construction costs down significantly, making New York more competitive for investment and reducing the taxpayer's cost. It is my hope Albany will follow suit and repeal the Scaffold Law altogether."
The Scaffold Law in N.Y. currently imposes absolute liability for gravity-related injuries, despite who is at fault for the injury. The law applies to construction employers and property owners, forcing them to purchase expensive liability insurance that drives up an overall project's cost.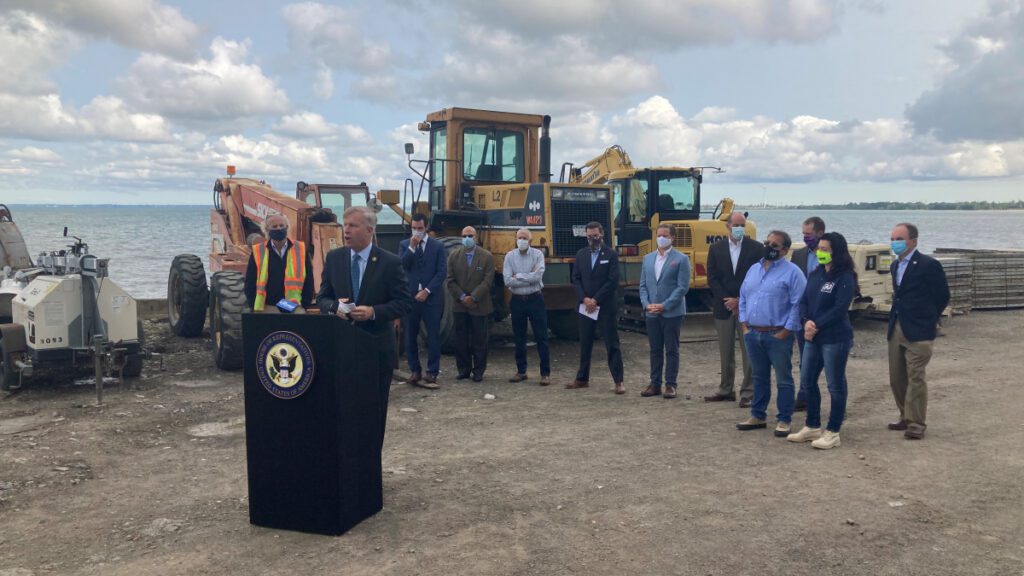 For example, the Gateway Rail project is expected to see additional costs of $180 to $300 million due to this requirement. It is also estimated this law has added an additional $200 million to the cost of the Tappan Zee Bridge Project. For families building a home, the New York State Builders Association has estimated that the Scaffold Law increases residential construction costs by as much as $10,000.
The Infrastructure Expansion Act that Rep. Jacobs has introduced imposes a comparative negligence liability standard, pre-empting the Scaffold Law on all projects receiving federal funding. Under Jacobs's legislation, gravity-related accidents would be investigated to determine blame in the cause of the injury. According to proponents of H.R. 8222, it would mean "businesses would no longer be forced to carry excessive insurance plans, and taxpayers are safe guarded against wasteful spending."
"It's time we finally tackle one of New York's most economically devasting statutes—the Scaffold Law," said Rep. Tom Reed (NY-23). "By preempting the Law, we can ensure federal construction projects and communities across New York are no longer unfairly burdened by this harmful law. We will continue to take steps to fight back against the impractical legislation coming out of Albany and boost economic development opportunities throughout the state."
"New York's 'Scaffold Law' has been called 'New York's Stupidest Law,' In fact, it may well be one of the most outdated laws in America," said Mike Elmendorf, president and CEO of the Associated General Contractors of New York State. "The Scaffold Law, which creates an only-in-New-York absolute liability standard, holds contractors and building owners wholly responsible for gravity-related accidents on construction sites, regardless of who was culpable. Workers, small businesses, and taxpayers are left holding the bag while trial lawyers laugh all the way to the bank. We commend Congressman Chris Jacobs for introducing the Infrastructure Expansion Act to try to spare federally funded projects from these excessive and unjustifiable costs. We urge Congress to act to protect taxpayers—while also continuing to urge Albany to finally correct this injustice by reforming this outrageous and antiquated law."
Gehringer Earns Lawyer of the Year for Construction Law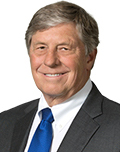 MILWAUKEE – A press release from O'Neil Cannon Hollman DeJong & Laing confirms that John G. Gehringer was recently recognized by Best Lawyers as the 2021 "Lawyer of the Year" for Construction Law. Only a single lawyer in each practice area and designated metropolitan area is honored as the "Lawyer of the Year." Receiving this designation reflects the high level of respect a lawyer has earned among other leading lawyers in the same communities and the same practice areas for their abilities, their professionalism, and their integrity.
AIHA Issues New COVID Guidance for Construction Industry
FALLS CHURCH, VA – The American Indsutrial Hygiene Association (AHIA) issued a new guidance document, Focus on Construction Health: COVID-19, to help the construction community deal with the challenges of responding to COVID-19 by providing a practical plan for protecting workers.

The new publication was developed by AIHA's Construction Committee. It provides information from experts on construction health hazards about how the virus can be controlled on construction sites. It gives employers in any trade where changes in tasks, conditions, and projects are common—such as construction—easily implemented plans for protecting their workers.

"This document will help construction companies identify potentially high-exposure tasks and determine appropriate and useful controls," said Bill Geer, CIH, project team leader for the document and volunteer for AIHA's Construction Committee. "It addresses the types of questions that COVID-19 site safety officers, competent persons, construction managers, and superintendents may need to answer every day."

This new AIHA publication is a companion piece to the recent 2019 publication, Focus Four for Health, which addresses common health hazards in construction. Both documents complement the construction industry's long-running OSHA Focus Four Hazards program that targets the top four fatal injury hazards. Focus on Construction Health, COVID-19 gives construction employers critical information on the factors that affect workplace exposures to this infectious disease. It provides a seven-step plan for protecting workers on construction worksites using the hierarchy of controls. The plan includes a Job Safety Analysis (JSA) step to tailor precautions and controls to site-specific tasks and changing conditions. A resource section provides links to other existing guidance materials useful for construction.

"COVID-19 presents an unprecedented and rapidly changing situation compared to other well-established construction health hazards. New information about the spread of infection and the potential for effective controls continues to develop from many sources," explained Geer. "This document is intended to provide a clear summary of abundant technical information that is relevant to construction industry employers and managers to guide their efforts."

Geer went on to say that the document provides key resources that can be checked regularly for updated information and guidance. "The JSA process is already familiar to construction employers, as they implement all aspects of their safety program," he said. "Construction is a very creative and problem-solving sector, and we are confident that construction employers and employees will adapt to and move beyond the COVID-19 hazard."

AIHA represents occupational and environmental health and safety (OEHS) professionals (also known as industrial hygienists) who practice the science of anticipating, recognizing, evaluating, and controlling workplace conditions that may cause workers injury or illness. Through a continuous improvement cycle of planning, doing, checking and acting, OEHS professionals make sure workplaces are healthy and safe.