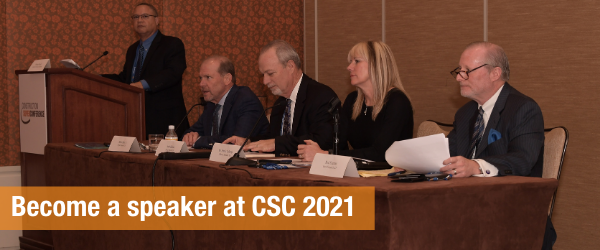 ORLANDO, FL – CSC is now accepting applications for its 2021 conference, hosted at the J.W. Marriott in Bonnet Creek, Orlando, FL. With COVID-19 risk top of mind for business travel, and the vaccine making its way across the nation, the Construction SuperConference staff fully anticipates a successful live conference December 6-8, 2021.
Start 2021 off the productive way and get your speaking application submitted. Deadline to submit is March 19. For more information on speaking details, visit our speaker resources page.
CSC Looks East to Orlando in 2021
ATLANTA – CSC 2021 is heading east. Scheduled for December 6-8, 2021, the conference will take place in Orlando, Fla., at the J.W. Marriott Orlando Bonnet Creek Resort & Spa. It's a classic destination with so many attractions, all of which we hope will be open 11 months from now. For example, Disney World theme parks are within minutes of this luxury hotel. Epic dining and gifts can also be found at nearby Disney Springs. At SeaWorld Orlando, there are awesome rides and countless animal experiences.
You'll notice the words "Resort and Spa" in the title of the hotel and it's all there, along with dining spots, the local attractions, the resort pool with splash pad, specialty hotel restaurants, and a rooftop terrace with nightly views of theme park fireworks displays.
"Assuming the 2021 conference takes place as scheduled, it will be a full two years since the industry last met in Palos Verdes at the Terranea Resort," said Kevin Gaffney (pictured), vice president and show director, Construction Super Conference. "It's too long. We're in the conference business, and we believe in face-to-face interaction."
So much education takes place beyond the confines of the educational session with professionals socializing and talking about their triumphs and challenges. It seems like a long time ago that we cemented friendships and made new acquaintances. I'm hopeful we can again do all of that safely next year in the Sunshine State.