LAS VEGAS – I just attended another great Construction Super Conference event in Las Vegas (Dec. 6-8 at the MGM Grand). It certainly feels as though the "new normal" is "back to normal." The event was well attended by attorneys, both in-house and outside counsel, as well as a large number of experts.
It was great seeing the friends that I have made at the Conference there in full force. There were definitely a few themes running through the conference which indicate what is currently happening in the industry, as well as what is expected in the short term.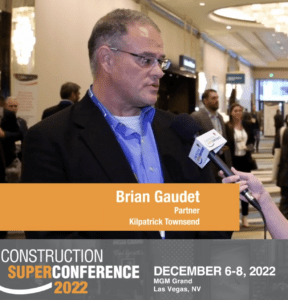 Two concepts that received quite a bit of attention were force majeure and supply chain disruptions. There was plenty of discussion about these two current topics in the context of contract language, case law related to these issues, as well as insight from experts on analysis for attempting to quantify the impacts. I expect that next year's conference will see similar discussions.
While I am very familiar with both of these topics, having negotiated contracts, dealt with disputes, and presented on these issues numerous times over the last couple of years—there is always benefit in gaining the insight of others. Invariably, you will be reminded of some aspect, or hear some angle on a situation that helps you gain insight on what the other party's approach might be.
Overall, the consensus seemed to be that there may still be some tough work ahead in dealing with supply chain disruptions over the next year, but the volatility seems to be settling down.
The presentation I found most intriguing was Wednesday's lunch keynote. We got to hear insights from Ronald Stuff of Sundt, Clay Haden of Skanska USA Building, Inc., and SheriAnn Murphy of Swinerton Builders. Each of these presenters are leaders in their legal departments as well as their respective companies.
As construction lawyers, especially outside counsel, we tend to be focused on the immediate impacts of a particular dispute we are tasked at resolving. We are focused on the merits of the case, the facts, the legal theories, and witnesses.
These presenters gave us great insight on some of the other internal company considerations that are not typically at the forefront of the issues when we are talking about disputes.
They all expressed things like reputational risk, company longevity, and views of the internal stakeholders—all important considerations that their companies have as well.
It was a reminder that at the beginning of any dispute it is important to find out whether there are any bigger picture issues out there so an appropriately tailored response to the dispute, with the companies other considerations in mind, can be crafted. I look forward to attending next year's Construction Super Conference, scheduled for Dec. 4-6, 2023 at the Hilton Miami Downtown.
Brian R. Gaudet is a partner at Kilpatrick, Townsend & Stockton, LLP.